THIS IS THE MEXICO CITY NEST OF A DESIGNER ABOUT TO TAKE FLIGHT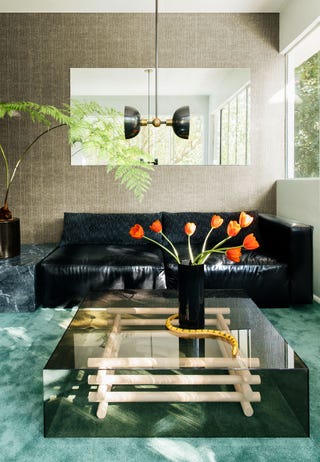 In a 19th-century neighborhood in Mexico City,
a jewel of 20th-century Mexican modernism sits quietly tucked away among the trees.
Across town, the design cognoscenti book months in advance for a timed peek at Casa Luis Barragán,
the home and studio of the famed Mexican architect.
But here in the city's Colonia San Rafael enclave, furniture designer Mark Grattan has only to roll out of bed to find himself immersed in the world of Barragán,
having scored a coveted apartment in a rare building designed by the late icon.
Grattan is the founder of a red-hot furniture design studio,
VIDIVIXI, and a star on the rise. Solange Knowles recently nabbed him as a product development consultant for her design studio and creative agency,
Saint Heron. And this spring, the charismatic young talent makes his television debut as a participant in Ellen's Next Great Designer,
Ellen DeGeneres's design competition on HBO Max.
How this native of Hudson, Ohio, ended up in Mexico City is a complicated tale.
He founded VIDIVIXI—from Victor Hugo's poem "Veni, Vidi, Vixi,"
which translates from Latin as "I came, I saw, I lived"—in 2014 in Brooklyn.
In 2016, he followed his heart and moved to Mexico City for a relationship.
There, he teamed up with British designer Adam Caplowe,
who became studio director at VIDIVIXI. But the love affair that had brought Grattan to the capital was rocky;
when it ended he decided to stay and find a peaceful space that he could make entirely his own. สถาปนิก