SPARK JOY—AND GET ORGANIZED—WITH MARIE KONDO'S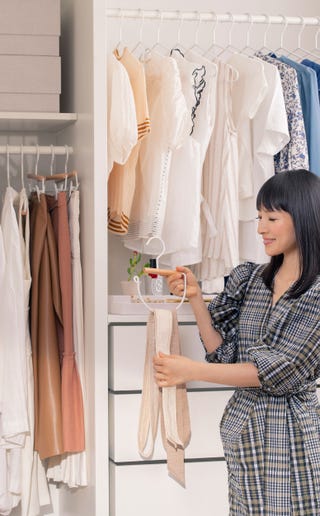 Anew year beckons, and with it a longing to clean up the mess.
Decluttering expert Marie Kondo—of sparking joy fame—became an overnight sensation
after publishing her 2014 bible The Life-Changing Magic of Tidying Up: The Japanese Art of Decluttering and Organizing.
This month the Netflix star, writer,
and consultant is launching The Container Store x KonMari, available now online and in stores on January 15. The collection features more than 100 sustainabl
y sourced products—including hangers,
drawer organizers, trays, containers, and canisters—that are intended for the kitchen,
closet, desktop, and kids' rooms.
Produced from bamboo, ceramic, recycled fiberboard,
and wood certified by the Forest Stewardship Council,
the items are designed to encourage a tidy and joyful home.
When explaining her famous organizing principal—the KonMari Method—Kondo
stresses not sorting belongings
by room, but by category, starting with clothes, then shifting to books,
papers, miscellaneous, and, lastly, sentimental items.
Her approach—with its central tenet of keeping only those things that speak to the heart and discarding items that no longer "spark joy"—has legions of followers around the world. Kondo encourages everyone to "thank" their possessions for their service before letting them go.
"Once you store the items that spark joy in these storage solutions," says Kondo of her new organizing line, "it is my hope that the items themselves will become happy, and through that happiness, fulfill the lifestyle we envision for ourselves." รับออกแบบบ้าน