The poker room is furnished with Saarinen chairs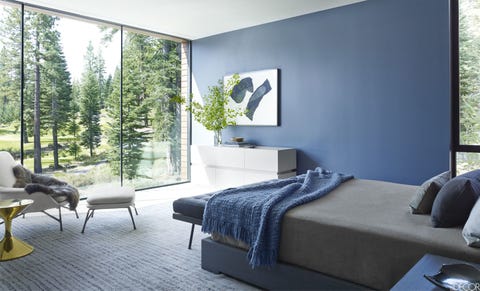 The poker room is furnished with Saarinen chairs
by Knoll upholstered in an Opuzen mohair, a chandelier by Lindsey Adelman,
and sconces by Fuse Lighting; the painting is by Jamie Bush,
and the wallcovering is by Élitis.
Palihapitiya adds that he and his wife, Brigette Lau,
who work in Silicon Valley and live there with their three children,
didn't want a tired, oversize log-cabin cliché but
something that reflected the reality of a modern family that uses iPhones and believes in Teslas.
"We wanted a reflection of our taste, a modern aesthetic that would embrace our inner voice."
n the master bedroom, an armchair and stool by Minotti,
upholstered in a Holly Hunt leather, are paired with a side table by Jonathan Adler, the bench and dresser are by Lawson-Fenning,
and the drawing is by Ching Ho Cheng;
the wall is painted in Bank Vault by Dunn-Edwards, and the carpet is by Decorative Carpets.
So the design of the interiors, by Bush, and the architecture of the house,
by Los Angeles architect Cynthia Wang of Studio Ren,
was to be an act of translation: both Tom Ford and Silicon Valley translated into a design more ambitious than usual in these parts.
"We wanted a showcase for the creativity of the people we were working with,"
says Palihapitiya, who invests in young talents and entrepreneurs and in things he
likes—things as varied as ice cream–store start-ups and the Golden State
Warriors, an NBA team he partially owns.
An internationally ranked poker player, he also wanted a poker den.